Thousands of bundt cake recipes are floating around the internet world right now.
Which ones are great? Which ones aren't?
A bundt cake is a cake baked in a Bundt pan. It has a unique shape with a hole in the middle. Kinda like an abnormally shaped doughnut?
The bundt cake was very famous in European countries mainly in Germany and her Jewish communities. The shape was inspired from a traditional European dessert called the Gugelhupf.
Consequently, this cake has traveled across the Atlantic Ocean to the North American territories and became a family favorite in the 1950s and 60s.
But enough about the history.
The bundt cake commonly has either a chocolate, lemon or buttercream flavor but over the years, many bakers have evolved the recipe and infused a lot of diverse flavors.
Here are some of the most spectacular
Bundt Cake Recipes
1.Lemon with Vanilla Frosting
This recipe promises the most moist lemon bundt cake you'll ever find. It also recommends baking the cake on top of a pre-heated stone in the oven.
I'm a pretty decent baker myself and I can't wait to try this one!
2.Vanilla with Black Tea Caramel Sauce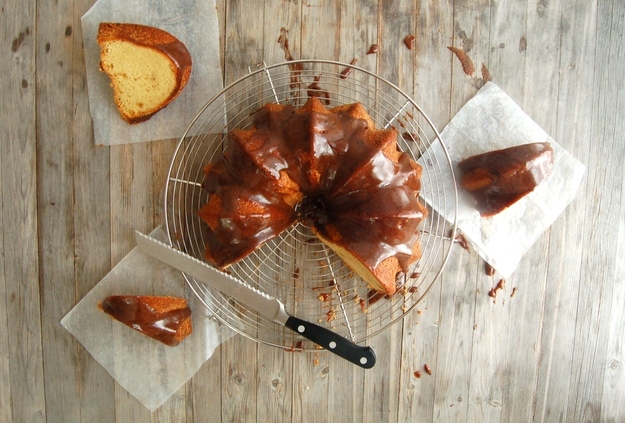 For those who are not really into vanilla flavors like me, this recipe says it will change your mind. Or your palate, rather.
The flavor combination is rather logical to me though. Bundt cakes are perfect with tea so why not infuse them?
Though black tea is more of an Asian flavor rather than the western creamy kind, I wouldn't think it to be peculiar to match them.
3.Gingerbread Bundt
This is Christmas out of the oven. Taken from a Gramercy Tavern recipe, this bundt cake tastes better as a couple of days go by.
Perfect combo of sticky, heavy and spicy in one pan.
4.Cinnamon Roll Bundt Cake
Anybody who doesn't like cinnamon rolls is probably missing one of the greatest mouthgasm flavors in this world.
This recipe offers just that. A climax of homey flavors right on your tongue.
5.Meyer Lemon Buttermilk Bundt Cake
Lemon or buttermilk bundt cakes are classic flavors. Put them together and you get a flavor that may as well surpass both classics.
This lemon buttermilk will give you the most gloriously perfect mix of creamy and tangy.
Find the recipe here
6.Old Fashion Chocolate Bundt Cake
You can never go wrong with chocolate. If you're unsure what flavor to get, always go for chocolate. Chances are 90% will love it.
This recipe gives you an excellent chocolate on chocolate flavor. Dark flavored cake with a slightly sweeter ganache to finish it off.
7.Chili Chocolate Bundt Cake
This recipe takes a total of 45 minutes to prepare and cook. Which isn't that long of a wait especially if you're craving for a sweet and spicy treat.
Weird combination? Trust me, chili and chocolate are a match made in heaven!
8.Choco Peanut Butter Swirl
If you love Reese's peanut butter cups like you love breathing, then this recipe is the cake for you.
Salty and sweet equals flavors full of love. Definitely top 1 for me in this bundt cake recipes post.
9.Chewy Brownie Bundt Cake
This recipe is a brownie turned into a bundt cake! Why didn't I think of that?!
Pure chewy genius!
10.Hummingbird Bundt Cake
A southern pride, this cake is filled with banana, pineapple and cream cheese goodness from first bite down to the last.
Topping it with pecans make it even more mouth watering!
Recipe here
11.Glazed Chocolate Macaroon Bundt Cake
Though this recipe requires a lot of work and will leave you with a mountain of dishes to wash, it will be well worth it!
The combination of shaved coconut and chocolate is divine!
12.Citrus Thyme Blueberry Bundt Cake
Lemon, thyme and blueberries? I would not have thought of this trio but this recipe screams fresh and healthy which makes it a must try!
13.Bourbon Vanilla Fig Bundt Cake
Mixing the right amount of liquor in desserts has proven to be a work of culinary finest. This recipe perfectly incorporates whiskey with fig to make one awesome cake.
14.Nutella Swirl with Cream Cheese Frosting
Your kids will definitely love this. After all, who doesn't love Nutella?
Pair it with cream cheese, yes please! One of my fave bundt cake recipes!
15.Peach and Cream Bundt Cake
I've always loved peaches and cream as a dessert and I'm sure this recipe would be just as good or probably better.
This would be perfect with your tea on a cool afternoon, a book in hand and the smell of fresh cut grass.
16.Red Velvet Chocolate Chip Bundt Cake
Recently, red velvet has taken one of the top spots on the flavor charts. There are cupcakes, cookies, ice cream, cakes and bars. And sometimes there are even red velvet flavored drinks.
Pair it with the classic chocolate chip and you get this heavenly recipe.
17.Maple Bundt Cake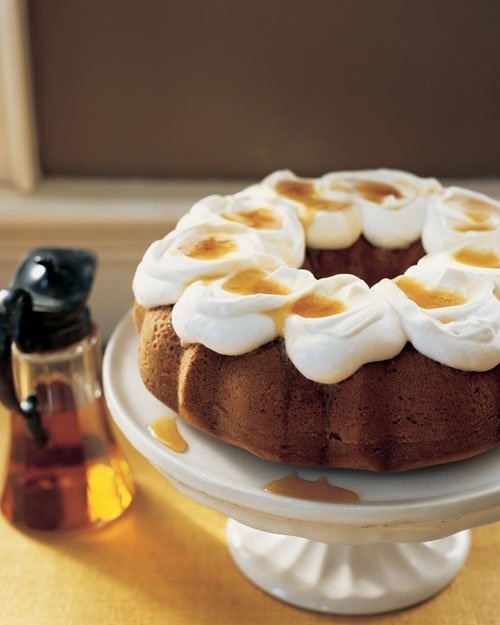 According to this recipe, this cake is better if baked a day ahead, wrapped in foil loosely and kept in room temp. Then, make the maple whipped cream topping right before serving.
Just writing about this is making my me drool.
18. Vegan Lemon Bunt Cake
Can you imagine a stunning tasty cake made completely without eggs or milk? No? In that case say hello to this simple vegan bundt cake! Find this delicious recipe here.
19.Apple Cake with Caramel Pecan Glaze
Apples, caramel and nuts have always been a perfect combination. This recipe puts all that into a family favorite bundt cake.
Candy apple cake version.
20.Pistachio Cherry Bundt Cake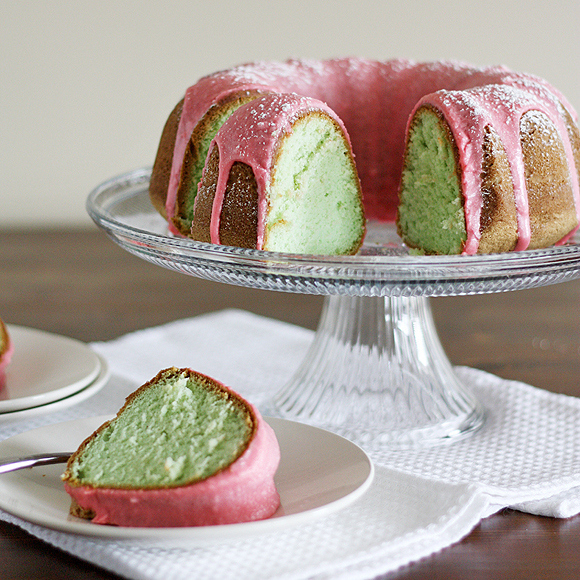 This is like the perfect ice cream duo turned into a cake. Check pink and green cake recipe and for sure you'll love it.
21.Gluten Free Carrot Bundt Cake
This recipe is spice infused, tart, tangy and very healthy. A normal carrot cake could not compare to this.
Well, it might but we opt to go the healthier route.
22.Spiced Cranberry Bundt Cake
Whether it be Thanksgiving or Christmas, this recipe is a solid finisher for your feast.
23.Zebra Bundt Cake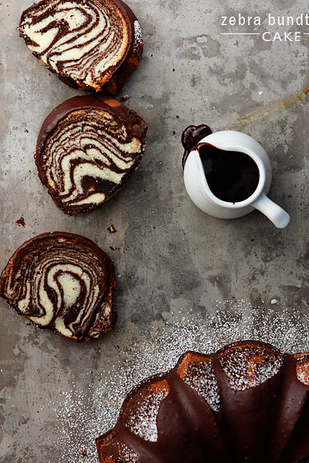 Your kids will seriously love this. It's interesting inside and out – a perfect mixture of chocolate and vanilla bundt artistically spooned into the pan to create a zebra effect.
24.Lavender Almond Bundt Cake
I can only imagine how good this smells. I mean, lavender and almond? Both very aromatic.
Can't wait to give this source go!
25. Pumpkin Cake with Maple Frosting & Apple Cider Caramel
Welcome the fall with this very fall-ish cake. Get the taste of pumpkin, apple and maple which are exquisite flavors of the season.
Try this recipe. I guarantee the cake won't last a day.
There you have it. 25 bundt cake recipes of different flavors and combinations.
You may turn your nose up some of the selections but give them a try. Or select the ones that really make your mouth water.
You'll surely impress your guests and your family. Might even get your kids to love new unusual flavors. Or maybe an addition to the growing cookbook you plan to pass on to your daughter? Who knows right?
Got any bundt cake recipes you'd like to share? Leave a comment below!
Featured image sour ce